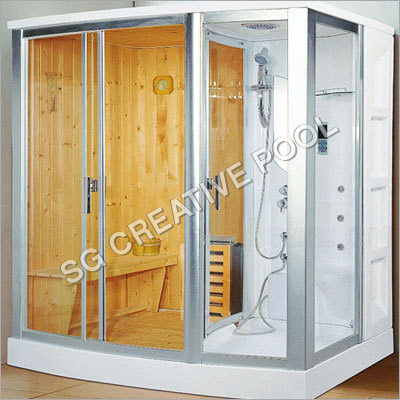 Cabin Sauna Bath
Product Code : SG89
Product Description
Cabin Steam Bath
We are manufacture and exporter of sauna bath unit. With innovative designs and expert team members, we commit our customers to provide them best services with quality service. Our finest quality range includes fashionable sauna bath is very modish and specially produced for the master bathroom. These designer sauna baths are made-up in according requirement & preference of the customers. These are manufactured from graded material using advanced industrialized techniques that give high performance and better stability.
We are swimming pool manufacturing at large scale and we are also delaying filtration plant
We are Contractor of Swimming Pool Construction, Fountains Manufacturer, Sauna Room Manufacturer & Jacuzzi Pool Contarctor, and We have also provided services : Delhi, Noida, Ghaziyabad, Gurgaon Haryana, Rothak, Sonipat, Panipat, Sirsa, Hisar, Chandigardh, Shimla, Manali, Agra, Lucknow, Varanasi, Bhatinda, Amritsar, Ludhiyana Jalandhar, Punjab, Rurkee, Haridwar, Riwari, Alwar, Jaipur, Ajmer, Jpdhpur, Udaipur, Bhilwara, Kota ,Laxmangardh, Shri Ganganagar, Hanumangardh, Rajasthan, Goa, Banglore, Etc.
900 x 900 x 2150mm
Thermostatic Faucet
Sauna Bath
Steam
Top Lamp
Head Shower
Exhaust Fan
Massage Jet
Remote Control Radio
Telephone Answer
CD Receiver
Temperature Detect
Creepage Protection
Brake Drainer
Changeable Switch
Ozone (available)